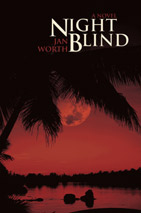 "Jan Worth published her great novel Nightblind herself (with iUniverse) and thank goodness she did. She worked on it for about thirty years she says in the Acknowledgements.
Worth's book is splendid and delightful, wise and witty and rich. Twenty times better, say, than something like Eat, Pray, Love...." (Read the full review...)





Poems > The Rust Goddess Changes Her Venue

It was out on the highway, the "scenic route"
men always want to take when they miss
their brothers and want their youth back bad.
A strip of junk yards full of things
men throw away and then love, spare parts –
where they touch what their fathers loved
before them. They always look out there
for ways to explain the geezer patriarchs –
ghosts of those names hanging over their heads:
Impala, Bel Air, Monte Carlo, Chevelle.
Of course there's physics to explain it,
but I'm going to say the entropy
is manmade, boys. I've noticed you love most
what you ruin and ruin what you love, grinning
stupidly while that chassis rusts away beneath you.
Let your junkyards overarch you, oxidize
your armor off, let the weather sting you
through ruptured sacristies of steel. I've
had enough of this religion. It's only
eating you up, swarming you with
failed grand gestures, gored plugs,
long abandoned fins, milled cams,
repossessions, semen-stained naugahyde
and accidental pregnancies, curses over
not having the right wrench, the crunch
of boozed-up fatality, a dumb death
at 2 a.m. on some deserted two-lane.
I know you love these wrecks
like your own bad selves.
When I wanted you more than dignity
I used to romp back seats with you and yours
but I'm done, and not because my back
can't take it. The compost is my heap now,
where at least the shit has a chance to steam
into something else: ripe tomatoes, an iris.