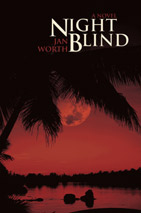 "Jan Worth published her great novel Nightblind herself (with iUniverse) and thank goodness she did. She worked on it for about thirty years she says in the Acknowledgements.
Worth's book is splendid and delightful, wise and witty and rich. Twenty times better, say, than something like Eat, Pray, Love...." (Read the full review...)





Essays > Kay Kelly: Reclaiming a Public Space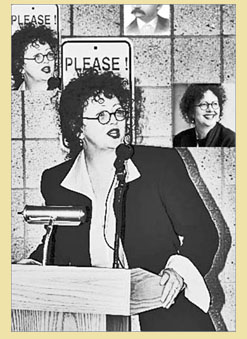 It's a tempestuous spring Saturday of scudding clouds and chilly breezes, and at the Genevieve Donnelly Pavilion at Kearsley Park, Kay Kelly swoops in, herself a whirlwind, with 20 minutes to spare before the next rehearsal.
Her big glasses lending a merrily nerdy appeal, Kelly's high-octane persona at first suggests a jester and a juggler. But there's nothing trivial about her energies. As intense as a thousand-watt battery, she is the power source for a deeply positive and complicated community drama: the rescue and rehabilitation of a public space.
The gust catches her curly red hair and flowered scarf as she hugs early arrivals: a brawny young man just back from a year in Iraq, a brother and sister pair, high school students getting paid through the Summer Youth Initiative, and her stage manager.
She cheerfully directs them to move risers for a "playing space" for the cast, a motley bunch of amateur actors from 10 to 60 assembling for "Taming of the Shrew," this season's Shakespeare in the Park production.
(It opened with a fundraiser on June 13, the first of six performances of the classic comedy about the battle of the sexes.)
"I've never had kids – only cats, you know, so these are my kids," she says, beaming at her volunteers. "We were charged from the beginning to try to enrich the lives of the neighborhood, and that's what we're doing."
For the past five years, Kelly has been the Kearsley Park Project Director, a City of Flint Parks Department position funded by a handful of hard-won grants from the C.S. Mott Foundation, the Ruth Mott Foundation, the Chamber of Commerce, the Greater Flint Arts Council and the Loeb Charitable Trust.
The 57-acre park, bisected by Gilkey Creek, was designed by landscape architect Warren H. Manning and opened in 1917, making it one of Flint's oldest. But, like its adjoining neighborhoods, it had fallen into serious decay.
Back in Flint after years in New York, Kelly saw something she loved at the old park.
She soon found others shared her vision for the space, and in five years, Kearsley Park has indeed been transformed from a weedy and unpainted haven for drug dealers to a bright gathering spot filled all summer with weddings, music, picnics and art.
And of course, Shakespeare.
The first time Kelly and her cast and crew staged a Shakespeare play – it was "Midsummer Night's Dream" -- at the Pavilion in 2003, they weren't sure anybody would come. They blanketed the surrounding neighborhood with flyers for a free dress rehearsal, and when it was time, she directed one of her musicians to sound an Elizabethan trumpet.
"We started to see people coming on foot from every direction," she said. "It gave me goose bumps." By performance time, there were 140 people and five dogs. Somebody had a pizza delivered in the second act. And during one scene where three middle-school girls sang and danced the fairy queen to sleep, a three-year-old girl from the audience bounced in and joined the dance. "It was magical," Kelly recalls. "We knew we were onto something."
Now, 140 would be a small crowd for the annual Summer Theater Festival, which has expanded to include not just Shakespeare but a yearly musical. This year it's "My Fair Lady" in August. She expects hundreds.
The productions operate on a shoestring -- the cast and crew, for example, get paid just $50 a season. Yet many volunteer year after year. The 2008 cast features local favorite Don Hillaker as Petruchio; Royaa Soltani, in her third year, as Kate; and D.J. Trela, last year's hilarious Malvolio, as Tranio. And of course, there's her husband, Michael Kelly, who'll play Kate's longsuffering father, Senor Baptista.
The story of how Kay Kelly arrived at her commitments has several chapters. Her family moved to Flint from Arkansas when she was just one, like so many others following auto money.
After graduating from UM – Flint's theater program, she entered a master's program at Wayne State, where in a repertory company she played, she recalls, "a French maid, an Irish maid, and Cockney maid and a shepherdess."
With a start like that, she chuckles, the next step was obvious: New York City!
"It was wonderful," she said. "I never waited on tables – not that there's anything wrong with it – but between acting jobs I did work at a cool shop, where Bette Midler showed up, and Cher, and Cher's people, and Meryl Streep and even Keith Richards." For a time she was a "home accessories" manager at Barney's.
For five years, she played "Kitty Scott, Society Reporter" on The Guiding Light. "I was the one who showed up at cocktail party scenes pushing a fake mic into somebody's face and demanding gossip," she says, smiling. Her soap opera career abruptly ended when the woman who played her fictional boss "had herself killed off" because in real life she married a Park Avenue surgeon and thought being in a soap opera was beneath her.
Reignited love brought Kelly back to Flint. Every year she got a Christmas card from an former schoolmate, Michael Kelly, son of one of Flint's famous clans and a well-known off-hours poet and actor. In 1994, the card announced his divorce.
"I picked up the phone and called him," she says. "He came to see me in New York and we had a fabulous time. My friends loved him. We had a two-year courtship, and then I came back to Flint and married him."
Her New York friends were concerned. It was the "Roger and Me" era and they worried her talents and energy would languish here.
"Four couples from New York came to our wedding," she says. "We had it at Mike's mother's home on Parkside Drive and Mike hired a string quartet as a special gift to me. Then I showed my friends around the parks, Applewood, Mott, the Cultural Center, and they said, 'okay, you're going to be all right. We can leave you here.'"
It's been a dozen years since, and she and Michael, Executive Director of Public Information at Mott Community College, are a Flint "power couple," tireless activists living happily in the College Cultural neighborhood. He stars in all her plays and walks to work. They are optimistic about Flint's future.
"Flint has constantly reinvented itself," she says, "and we're doing it again. I'm sure people thought Flint would collapse after beaver trapping died out. But here we still are."
In the still windy open-air pavilion, glowing from its latest makeover, the cast try on bustles and bodkins over tattooed shoulders, Hawaiian shirts and beat-up sneakers. Kelly can't sit still. She jumps up to tell somebody what to do.
"It's 3:05, people, time to get started!" she yells. The interview is over: there are lines to be run, scenes to be blocked. Darting back to the makeshift stage, she happily shouts out,"Come on, folks, this is Shakespeare!"


www.eastvillagemagazine.org
From Jan's "Village Life" column in the June 2008 East Village Magazine
Illustration by Patty Warner