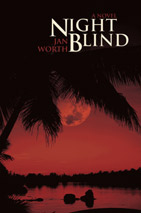 "Jan Worth published her great novel Nightblind herself (with iUniverse) and thank goodness she did. She worked on it for about thirty years she says in the Acknowledgements.
Worth's book is splendid and delightful, wise and witty and rich. Twenty times better, say, than something like Eat, Pray, Love...." (Read the full review...)





Essays > Mesmerized by trees - a leafy accolade




One of my first great losses was not a person, but a tree. It was a maple in the front yard of a parsonage - the same house with the great attic I wrote about last month. The tree was about 25 years old, with a series of satisfying saddles, and I climbed it with increasing strength and skill for about five years. I vividly remember getting as high as I could on summer days and hugging the trunk, riding a breeze or simply blissfully hanging on, smitten by green. Much later when I encountered Federico Garcia Lorca's luscious poem "Green," I thought of my hours in that tree: "Green, I love you, green."
Unfortunately for my spiritual development, I blamed the church for the tree's demise. Denominational bureaucrats in the optimistic boom of the Fifties decided to add on an educational wing. They actually moved the parsonage up the street a block, and my beloved tree was uprooted and chopped up to make way. Seeing the huge hole where the tree had been was my first experience of grief, and I've never quite trusted organized religion since.
So I learned a dual lesson quite early: not only that one can have a specific and individual relationship with a particular tree, but that trees can't be taken for granted. There are always people around who've got a better idea than a tree. And they're usually wrong - obscenely wrong.
And here we are 45 years later, experiencing not just global warming but global melancholy, the zone for maples, for example, seemingly moving northward and the trees that we've come to love in peril from all manner of blights, wasps and compromised habitats.
This is all to get to an ode of praise: a tribute (I desperately hope not a eulogy) to the trees of our neighborhood. In my frequent walks from Woodlawn and Burroughs Park east across Sunnyside or Calumet to Pierce Park and back, I've fallen in love with a dozen trees. Some were planted by design, part of a "tree plan" of a city once more gracious in its priorities. Some are there by "accident," volunteers from seeds dropped by birds or carried by wind. Like the houses and residents on our leafy blocks, the trees have character and individual histories to be known and cherished.
Take for instance the immense silver maples providing the beautiful arbors over Beard, Maxine, Blanchard, Kensington and Linwood. According to Mike Keeler and Sherry Hayden, longtime environmentalists and neighborhood activists who took me on a fabulous "tree walk" last Saturday, these trees are at least sixty years old - planted in what former Parks Director George Liljeblad calls the "tree lawns" between the sidewalks and the curb about the time the houses were built, mostly in the mid-thirties. (Sherry notes that cicadas love the old maples, and if you walk along Maxine on July or August nights you can hear them - chirping out what as a poet I'd say are long summer spondees, aural neon advertising "SEX-SEX-SEX." or iambs like "Love ME. Love ME. Love ME." )
Anybody who's walked a dog in Woodlawn Park knows the next trees I want to celebrate, the pair of huge oaks at the north end of the park - a red oak and a white oak side by side, next to the rotting stump of yet a third giant that got hit by lightning years ago. Under those oaks last week were a lusty scattering of yellow trout lilies. And if you walk north along Gilkey Creek into Burroughs Park, there are more wonderful trees: a large willow, an old sycamore that has "wet feet" as Sherry put it, enjoying the slightly swampy land on Burroughs' former farm. There's also an ancient tamarack (an interesting species, as Mike explained, a deciduous conifer which loses its needles every autumn).
At the other end of the neighborhood, who hasn't admired the formidable ash tree on the playground of Pierce School? Liljeblad, who used to live across the street at Vernon and Calumet, remembers children sitting in a circle under that magical tree, reading. And at the edge of the golf course at Pierce Park is one of my favorites, a small hawthorn that was completely covered with brilliant red berries last October: approach it with caution, though - hawthorns have, well, thorns. (When we stood there trying to identify it last Saturday, a huge rainbow opened up over the park and I felt like I was in paradise.)
I'm partial to the eight Siberian elms on Calumet west of the school - among the few survivors of the Sixties elm blight. That accounts for why many maples in that part of the neighborhood are smaller than along Maxine - they were likely replacements for the original elms, Keeler said.
There are so many more to note - perhaps for another column: the catalpa on Court between Maxine and Beard, the huge honey locust at Court and Kensington, a big beech at the dead end of Montclair, Grayce Scholt's primeval silver maple on Kensington that makes me want to bow down. These noble trees, many here before us and still our daily companions, are one of the joys of living here - gifts to be honored and loved -- before, I'm tempted to add morosely, before they're gone. Before we ruin everything.


Patti Warner is a graphic artist who has lived and worked around Flint her entire life. Her varied lines of greeting cards are sold through Tumble Dry Low Cards. Her cards are available throughout Genesee County at Pages Bookstore, Dale's Health Foods, Good Beans Café and in the Flint Farmers' Market at Edna's Spices and Herbs and East End Books and Music.


www.eastvillagemagazine.org
From Jan's "Village Life" column in the May 2007 East Village Magazine
Illustration by Patty Warner