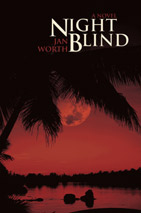 "Jan Worth published her great novel Nightblind herself (with iUniverse) and thank goodness she did. She worked on it for about thirty years she says in the Acknowledgements.
Worth's book is splendid and delightful, wise and witty and rich. Twenty times better, say, than something like Eat, Pray, Love...." (Read the full review...)





Of two stone yards, a tombstone etcher, and a master craftsman
Call me callous and unevolved, but sometimes I like buildings more than people.
I feel sorry for abandoned houses, as if they have a heart....

Sometimes I'd rather deal with the second-hand results of human life than human life itself. People are mean and stupid. Buildings do the best they can, considering who built them.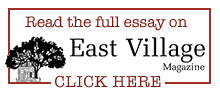 www.eastvillagemagazine.org
From Jan's "Village Life" column in the July 2013 East Village Magazine