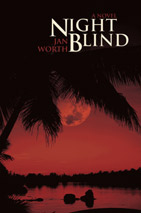 "Jan Worth published her great novel Nightblind herself (with iUniverse) and thank goodness she did. She worked on it for about thirty years she says in the Acknowledgements.
Worth's book is splendid and delightful, wise and witty and rich. Twenty times better, say, than something like Eat, Pray, Love...." (Read the full review...)





Essays > Take Some Bach and Call Me in the Morning

I'm perched on the edge of the examination table, the white paper crinkling beneath me. It's a Saturday morning and I'm at the urgent care clinic because of a pain in the gut that kept me up most of the night. I know what it is. Just female folderol.
My husband, always valiant and true, drove me over here in morning fog, and now that I'm here, alone in the spartan, closet-like room, I pay attention to the way my muscles in my legs tighten over the end of the table, my nerves zinging just enough to be unpleasant.
What to do, what to do?
I'm here for drugs. When the doctor gets here, everything will be all right. But of course I have to wait.
I fold my hands primly in my lap and look around.
Examination rooms used to have little bins of magazines: Outdoor Life, Women's World, People if you were lucky. But this one is devoid of distracting literature: the retreat of the written word that has always bailed me out in anxious moments. But today the only paper I see is a pile of paper towels, neatly centered, on the counter. Maybe all the doctors' office magazines have finally gone kaput.
Then I realize I'm looking right at my little black backpack, hastily grabbed from the back of a chair.
I realize that inside, God Be Praised, is my iPhone. And on it, lovingly loaded with my favorite tunes, my iPod. And in a curl around it, the soft white cord, with earbuds, I'd left in there from my last long walk.
Gods and Goddesses be praised.
I scramble off the table, retrieve the iPhone, untangle the cord and plug myself in.
The list of my idiosyncratically-chosen music pops up and I scroll, taking deep breaths as if to avert a panic attack. Lyle Lovett, Janis Joplin, Crosby Stills, Miles Davis, Dave Brubeck, Laurence Juber, And Bach.
Bach, of course. A swipe of the finger and straight into my brain rushes the sumptuous, reassuring order of the Brandenburg Concertos.
It's the Violin Concerto No. 1 in A Minor swirling poignantly in my cerebral cortex when the doctor walks in. For once I don't feel helpless, or even terribly vulnerable – I've got Bach.
And I'm delighted to see him. By a stroke of scheduling luck I get a doctor I know, a charming, effusive Marx Brother-clone – Chico to be exact -- who's helping my husband manage his diabetes.
His lips are moving and, mid-swoop of heart-lifting violins, I pull out my earbuds and say hello.
"Sorry I've made you wait," Chico says.
"No problem! I've got my iPod."
Gut aches go on hold and I tell him it's Bach.
"Ahh! The Brandenburgs! Fabulous." He shakes my hand. He relates how he won free tickets on the public station not long ago, the best orchestra, best conductor. And Bach.
"Now!" he says. I think he's going to get down to business with the boring matter of my bladder.
"Do you know the Ralph Vaughn Williams version of the Concerto in A for Violin and Oboe D'amore?"
I haven't.
"You have to! It's amazing. And how about Moussorgsky? You really have to get "Pictures at an Exhibition" for your iPod – be sure to get the Ravel orchestration."
"Doctor," I say, smiling, "Maybe you could write me a prescription for it?"
Prescription pads, like magazines in a plastic wall bin, are a thing of the past: he uses laptops. The only paper in the room, other than the noisy white layer skimming my derriere is that pile of paper towels on the counter. He grabs one and pulls out his pen.
He writes, "Camille Saent-Saens, 3rd Symphony, Organ Symphony."
"You gotta get that one, I'm serious," he says, and hands it over. "Trust me, if you listen to that, you're going to feel better."
Eventually he tells me yes, I have an infection and yes, he has just the antibiotic for me, and yes, I will get better soon.
But I'm already feeling better. I tuck the paper towel into my backpack, along with my iPod, the little machine that makes me believe the world is getting better despite all the other evidence to the contrary.
And I suspect it's the music that did it, along with that moment when my doctor and I, attending to the travails and scary ups and downs of the body, connected over something else humans do besides get sick and die. Something else besides making war, besides screwing up the Gulf of Mexico.
We make music. How remarkable – these achievements through and beyond trouble -- enduring, heart-rending and hopeful.
Elated and grateful, I rejoin my husband in the waiting room.
"You're smiling," he says, "I'm surprised to see you smiling."
"I'm okay," I say. "Let's go fill my prescription. I have to take some Moussorgsky."



www.eastvillagemagazine.org
From Jan's "Village Life" column in the August 2010 East Village Magazine