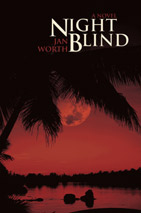 "Jan Worth published her great novel Nightblind herself (with iUniverse) and thank goodness she did. She worked on it for about thirty years she says in the Acknowledgements.
Worth's book is splendid and delightful, wise and witty and rich. Twenty times better, say, than something like Eat, Pray, Love...." (Read the full review...)





Essays > Pets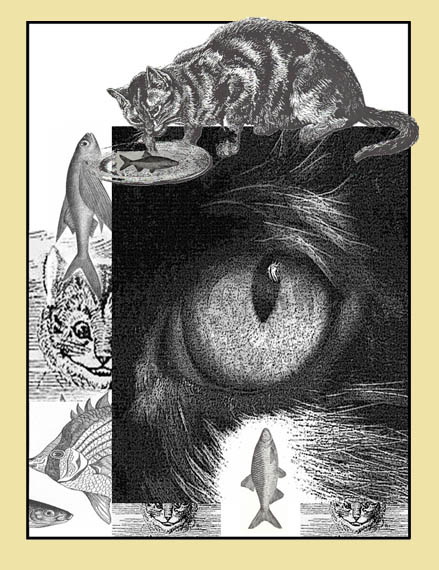 Clad in yellow rubber gloves and breathing through my mouth, I was down in the basement the other day scooping poop out of my two new kitties' litter boxes. The cats – a brother and sister alternately named Gus/Joey 2 and Henriette/Cinder (it's a long story) -- sidled around me, supervising.
No sooner had I accomplished this humble service, making sure everything was clean and fragrant, than Henriette/Cinder climbed in delicately and dropped a giant unladylike load.
"You little b----," I mumbled. But I had to smile. It's good to have cats back in the house. Ours is a neighborhood cordial to cats and dogs, and mine is a life that needs a pet.
Let me explain. I didn't have a serious relationship – the kind where reciprocity is frank and passionate; the kind where you love making the other happy, even at your own expense; the kind where you admit to sweet dependency by consent; the kind where you're humbled by how your flaws stick out like thorns and are miraculously forgiven – until I arrived in Flint.
And most of those relationships were with cats.
When I first landed here two dozen years ago, I'd embraced a lot of interesting experiences, but they were part of that notoriously responsibility-shy adolescence called The Sixties. I was satisfied to keep life as simple as my old VW bug, a brace of Goodwill peasant blouses and a pair of well-worn hiking boots. Commitment? Not in this girl's hippie satchel.
That changed when I got to Flint. This old working town, no nonsense, no glamour, messed with my DNA. I was broke, life was lonely and I craved attachments. Then, the Rust Belt gods handpicked me for emotional rehab. They sent Timmie.
She introduced herself boisterously one afternoon by leaping onto the screen door of my Avon Street walkup. She yowled piercingly, her scrawny calico body spreadeagle, claws gripping the screen at eye level. Astonished, I would have done anything to stop that racket. What I did do was run around crazily looking for food. I think it was a can of tuna fish, sacrificed from my barely adequate pantry.
Timmie was not relaxed. She did what she had to do. And I loved her – well, I held her in awe – for all three years we shared the territory.
At first she rarely came indoors, except to eat, though slowly she warmed a bit and allowed herself to be petted. She had frequent fierce and caterwauling romantic encounters, usually at about 2 a.m. behind the garage. She wasn't even full grown the first time she got pregnant, and she had a miscarriage on my lap while I was giving a poetry reading in my living room. I still have the sheaf around somewhere stained with Timmie's placental blood. Don't ask me why I kept it.
By then I'd taken on another stray, the poet who became my first husband, and before we had a chance to get Timmie fixed, she procreated again, this time producing three fat kittens. I stayed up late one April Sunday night watching her deliver in a box under a bookshelf, honored she chose us.
We gave away two of the three but kept the fattest, a roly-poly blue-eyed boy we named Tater because he looked like a Tater Tot. He grew to twice Timmie's size, though she was always the boss. When we moved to Seventh Street, we took them both.
But three times, Timmie decamped to Avon Street, three times successfully dodging traffic on Court. Finally a neighbor on Avon agreed to feed her. Timmie wanted no part of our bourgeois domestication. She lived another nine years. We used to get updates about how she yielded finally to indoor life, giving up her back-street shenanigans.
Tater, on the other hand, thrived in the new place, free of Timmie's crabby dominatrix reign. Over the next 15 years, Tater endeared himself, catching bats, sitting up for famous visiting poets, inspiring many poems, submitting to party hats on holidays, and blessing us with his loud purr when he warmly curled on our laps.
When my marriage broke up, leaving Tater behind was almost as bad as leaving my husband. When Tater, finally a sadly arthritic old fellow, had to be put down, my ex, his new girlfriend and I made the tearful trip to EasCor together. It was a moment of poignant reconciliation.
Next came beautiful Joey, a big orange longhair. He made a pilgrimage from California via Bishop Airport with my new man, who rightly understood I needed feline company. Joey, up to then an apartment dweller, discovered his "cat spirit," catching so many birds on Maxine Street the neighbors complained, and we had to bell him. His life in the College-Cultural neighborhood was happy but short – he was hit by something (maybe a trash truck – I've always blamed Mayor Williamson) and died shortly after. We buried him in the backyard under the bird feeder. I was so guilty and devastated I pledged not to get another cat.
But then the Fates intervened again, and in November my two new housemates unexpectedly came into my life – one gold and one silvery gray, three years old. They grew up just two blocks from where my Flint life – and Timmie and Tater – began, and now they're reminding me again how sweet it is to share a life with cats. I'm grateful to have these furry, beautiful creatures who need me (shh…don't tell them!). They're a reminder, timely for our new year: it's the simple pleasures and worries of taking care of each other that give each day its meaning.



www.eastvillagemagazine.org
From Jan's "Village Life" column in the January 2008 East Village Magazine
Illustration by Patty Warner